" Prosím Boha, aby zmiernil svoju Spravodlivosť, ponáhľate sa smerom k príchodu Tretej svetovej vojny." (Kráľovná Nikaraguy)
Znamenie svetla * Prichádzam z Neba * Posolstvo lásky a pokoja * Problémy Nikaraguy * Strach a poslušnosť *
Nikdy sa vás nič tak hlboko nedotkne milosťou ako príbeh Our Lady of Nicaragua, - povedal biskup Mons. Pablo Vega (zodpovedný za skúmanie zjavenia Panny Márie v Cuapa, Nikaragua) - Čo je udivujúce, po viac ako 20 rokoch od prvého zjavenia Our Lady of Nicaragua takmer nikto o ňom nič nevie. Posolstvá Panny Márie sú tak dôležité, tak jednoduché , tak ortodoxné tak presné a tak milujúce , že ich mali šíriť všetky mariánske periodiká a katolícke televízie . Ticho je ohlušujúce."
Posolstvo Panny Márie je jednoduché:
modlite sa ruženec, ustanovte medzi sebou navzájom pokoj, a obnovte pobožnosť prvých sobôt tak často ako ste schopní (všetko špeciálne v rodinách).
Panna Mária sa zjavila 5x Testy všetkých zjavení: poslušnosť predstaveným, vernosť doktríne, splnené proroctvá, zázraky a evidentné milosti boli overené.
Vizionár
Vizionárom je veľmi jednoduchý a skromný roľník stredného veku. Staral sa o malú sakristiu v údolí Cuapa. Bol diakon - dobrovoľník. Bernardo Martinez bol veľmi chudobný. Vlastnil akurát jedno teliatko. Mal zbožnú starú mamu, ktorá ho viedla k láske k ružencu a Panne Márii. Bernardo si vždy myslel , že je veľký hriešnik - dobrý znakom toho, že Duch Svätý bol s ním.
Dňa 15. apríla 1980 Bernardo uvidel osvetlenú sochu Panny Márie. Vo svojej skromnosti bol presvedčený, že socha je osvetlená, pretože Panna Mária sa na neho hnevá. Myslel si , že ženy nechali zažaté svetlá a obvinil ich z toho.
"Pomyslel som si: "Svätá Panna sa na mňa hnevá, pretože som sa hádal s ľuďmi. Rozhodol som sa ich poprosiť o prepáčenie.
Po verejnom ospravedlnení som povedal ľuďom, že som videl osvetlenú sochu. Ale požiadal som ich, aby mlčali. Nestalo sa. Tajomstvo sa začalo šíriť Cuapou a ja som preto trpel, lebo niektorí sa mi posmievali."
Kňaz mu povedal, aby sa modlil a požiadal Pannu Máriu, ak chce ľuďom v Cuape niečo povedať, aby tak urobila. Ale Bernardo sa modlil takto:
"Panna Mária, prosím, nechci odo mňa nič. Mám mnoho problémov vo farnosti. Požiadaj niekoho iného, pretože ja sa chcem vyhnúť ďalším problémom."
Posolstvo
Dňa 8. mája 1980 sa Bernardo vracal z rybolovu, keď uvidel 2 záblesky svetla. Pri druhom sa mu zjavila Panna Mária:
"Vyzerala ako fatimská socha. Nehýbala sa. Necítil som strach, bol som prekvapený a pomyslel som si: Čo to vidím? Robí si niekto žarty? Potom som si pretrel rukou tvár, pretože som si pomyslel že snívam. Uvidel som, že má ľudskú pokožku, že jej oči sa hýbu a že žmurkla. Povedal som si: To nie je socha. Ona je živá! Bol som úplne paralyzovaný, len myšlienky mi prúdili hlavou, keď vtom vystrela ruky. Z jej rúk žiarili lúče silnejšie ako slnko. Dotkla sa mojej hrude. Vtedy som dostal silu hovoriť, hoci som ešte koktal . Spýtal som sa: Ako sa voláš?
Odpovedala najsladším hlasom, aký som nikdy nepočul u ženy ani u žiadnej inej osoby. Povedala mi, že sa volá Mária. Videl som ako sa jej pohli pery. Povedal som si : Ona je živá! Hovorí! Odpovedala mi na otázku!. Videl som, že sa dá s ňou hovoriť, tak som sa spýtal, odkiaľ je. Odpovedala mi tak isto sladko: "Prichádzam z Neba. Som Ježišova Matka." Keď som to počul, spomenul som si na kňazove slová a opýtal sa : "Čo je to čo chceš?" Odpovedala mi: "Chcem, aby sa ruženec modlil každý deň."
Prerušil som Ju a povedal: "Áno, modlíme sa ho. Kňaz nám priniesol úmysly z farnosti sv. Františka a tak sme s nimi spojení."
Povedala mi: "Nechcem aby ste sa ho modlili len v máji. Chcem , aby ste sa ho modlili stále v rodinách, spolu s deťmi, ktoré sú dosť staré na to, aby to pochopili, stanovili si hodinu, kedy nemáte žiadne problémy v práci či doma."
Povedala mi, že Bohu sa nepáčia modlitby, ktoré sú robené v chvate a mechanicky. Preto odporučila modlitbu ruženca spolu s čítaním citátov z Biblie a tak zapojiť do praxe Slovo Božie.
Keď som to počul povedal som: Ako?, pretože som nevedel, že ruženec je biblický. Kde sú tie biblické citáty?
Povedala mi, aby som si ich v Biblii vyhľadal, a pokračovala: Milujte sa navzájom. Plňte to, čo ste prisľúbili. Vytvárajte pokoj. Nežiadajte pokoj od Boha, pretože ak si ho neurobíte, nebudete ho mať. Obnovte prvých päť sobôt. Keď toto všetko budete robiť, obdržíte mnoho milostí."
Pred vojnou sme to tak robievali. Chodili sme na spoveď a prijímanie každú prvú sobotu v mesiaci. Ale odkedy nás Boh oslobodil od prelievania krvi v Cuape, nepokračujeme v tom. Potom povedala:
Nikaragua od zemetrasenia veľmi trpela. Hrozí, že bude ešte viac utrpenia. Bude trpieť, ak
sa nezmeníte. Modlite sa! Modli sa, syn môj, ruženec za celý svet. Povedz veriacim aj neveriacim, že svet je v smrteľnom nebezpečenstve. Prosím Boha, aby zmiernil svoju Spravodlivosť, ponáhľate sa smerom k príchodu Tretej svetovej vojny."
Po tom ako vyslovila tieto slová, pochopil som, že to musím povedať ostatným a povedal som Jej: Pani, nechcem mať problémy. Mám ich plno v kostole. Povedz to niekomu inému. Nato mi povedala: Nie, pretože Náš Pán si vybral na odovzdanie posolstva teba."
Poslušnosť
Prešlo osem dní a Bernardo stále nepovedal nikomu nič, pretože mal obavy z reakcií. Mária sa mu zjavila znovu:
"Prečo si nepovedal to, čo som ťa poslala aby si povedal?"
"Pani, to je to, čoho sa obávam. Bojím sa posmechu. Bojím sa, že sa mi budú smiať a nebudú mi veriť."
"Neboj sa, ja ti pomôžem. A povedz to kňazovi."
Dňa 9. mája 1980 išiel do Juigalpa a oznámil odkaz kňazovi. Kňaz mu povedal, že to čo doteraz videl a počul, má povedať ľuďom, ale ak by mal viac posolstiev, nemá ich povedať nikomu, len kňazovi.
Dňa 8. júna 1980 sa mu Panna Mária zjavila znovu. Ukázala mu 4 vízie. Videl veľkú skupinu ľudí oblečených v bielom. Žiarili svetlom spievali a pochodovali smerom k Nebu. To boli prví kresťania. V druhej vízii videl inú skupinu ľudí, oblečených v bielom s veľkými žiariacimi ružencami v rukách. Všetci sa modlili Otčenáše a Zdravasy.
"To sú tí, ktorým som ako prvým odovzdala ruženec. Toto je cesta akou chcem, aby ste sa všetci modlili ruženec."
Bernardo potom videl tretiu skupinu oblečenú v hnedom. Boli to františkáni.
"Títo prevzali ruženec z rúk tých prvých."
"Potom som videl štvrtú veľmi veľkú skupinu oblečenú v bežnom odeve, všetci mali ružence. Boli úplne obyčajní až nato, že z ich tiel vyžarovalo svetlo."
Po vízii mal Bernardo chuť rozpovedať o nej každému, ale poslúchol kňaza, že o ďalších víziách má povedať len jemu. To je veľký test vizionára a Bernardo v ňom nezlyhal. V krátkom čase kňaz posolstvo rozšíril po kraji.
Proroctvo
Dňa 8. júla 1980 dostal Bernardo tretiu víziu. Bol to anjel. Bernardo mal mnoho požiadaviek od ľudí, ale mal to byť anjel, kto sa mal s nimi zaoberať, nie Mária.
V Cuape bol chlapec, ktorý bol uväznený za kontrarevolučnú činnosť proti komunistickej vláde. Jeho sestra ho nemohla ani navštíviť. Potom tu bola pani, ktorá mala brata a otca pijanov a násilníkov. Ako učiteľka mala takisto problémy v práci, keďže nastal tlak na to, aby sa ďakovalo Fidelovi Castrovi namiesto Boha, ale nechcela prísť o miesto. Ešte než Bernardo stihol predložiť všetky tieto veci, anjel povedal:
" Vaše modlitby boli vypočuté. Choď a povedz väzňovej sestre, aby ho išla upokojiť v nedeľu, keďže je veľmi smutný. Nech nepodpisuje dokumenty, ktoré mu predložia, inak prevezme zodpovednosť za finančnú škodu. Je nevinný, takže ona sa nemusí báť." Čo sa týka modlitby za zamestnanie, anjel povedal, že dotyčná má stáť pevne na svojom, pretože ako učiteľka, ktorá verí v Boha môže vykonať pre ľudí mnoho dobrého. Anjel poradil neobracať sa chrbtom k problémom, ale nikdy nikoho za ne nepreklínať.
Všetko z toho, čo anjel povedal sa presne splnilo. Len Boh pozná to, čo sa stane. Božie proroctvá sú vždy100-percentne presné.
Tvorte pokoj
Dňa 8.9. 1980 sa Mária zjavila Bernardovi ako dieťa vo veku 6 - 7 rokov. Mala to isté posolstvo ako prvýkrát. Bernardo sa spýtal, či chce postaviť kostol na svoju počesť. Jeden muž už venoval 80 000,- crdb na tento účel.
"Nie! Boh chce, aby ste vy boli živými chrámami . Obnovili svätý Boží chrám. Vo vás je oslava Boha. Milujte sa navzájom. Vo vás je pôžitok Boha. Milujte jeden druhého. Odpustite jeden druhému. Tvorte pokoj. Nežiadajte len o pokoj . Neakceptujete ani jeden cent na nič. Vždy pokračujte pevne v katechizme. Krok za krokom pochopíte všetko, čo katechizmus znamená. Ako spoločenstvo rozjímajte o blahoslavenstvách , vzdialení od ruchu. Vrátim sa 13.októbra."
Deň 13.10., deň návratu je potom pripomienkou fatimského zázraku. Vidno tu spojitosť. Fatima zdôrazňuje ruženec a Nikaragua kladie dôraz na dôkladnosť jeho modlitby. Fatima zdôrazňuje prvých 5 sobôt, Nikaragua podčiarkuje , že ich treba robiť stále znovu. Fatima žiada modlitbu za pokoj, Nikaragua dodáva, že musíme mať najprv pokoj v srdci a v rodine.
Zázrak
Onoho dňa 13.10.1980 Bernardo a asi 50 nasledovníkov prišli na miesto zjavenia. Modlili sa ruženec a spievali, keď v tom " sa na zemi sformoval veľký svetelný kruh. Každý bez výnimky ho videli. Svetlo prichádzalo zhora. Keď sa dotkol zeme, tá sa rozptýlila. Vidiac ako svetlo dopadá ponad hlavy všetkých prítomných , pozrel som sa hore a tvorili sa kruhy rôznych farieb , ktoré nepochádzali zo slnka. Slnko bolo na úplne inom mieste."
Boli 3 hodiny poobede. Bolo cítiť ľahký osviežujúci vánok. Náhle sa zablesklo, potom druhýkrát. Otvoril som oči a videl som Pannu Máriu.
Kým ľudia pozerali na svetelný kruh, Bernardo počúval Pannu Máriu. Tentokrát sa zjavila ako Matka Bolestná a plakala:
"Rozosmutňuje ma tvrdosť ľudských sŕdc. Ale vy sa budete modliť, aby sa zmenili. Modlite sa ruženec. Rozjímajte o tajomstvách. Počúvajte Božie Slovo, ktoré z nich prehovára. Milujte jeden druhého. Tvorte pokoj. Nežiadajte pokoj bez toho, aby ste ho sami tvorili. Pretože ak to sami nerobíte, nie je dobré žiadať o to."
"Plňte to, čo sľúbite. Uveďte do praxe Božie Slovo. Hľadajte spôsoby, ako potešiť Boha. Slúžte svojim blížnym , keďže tento spôsob Ho teší."
"Žiadajú ma o nepodstatné veci. Žiadajte o vieru, aby ste mali silu niesť svoj vlastný kríž."
"Utrpenie tohto sveta sa zotrieť nedá. To je spôsob, ako život funguje. Sú problémy s manželom, ženou, deťmi, bratmi. Hovorte, rozprávajte sa a tak sa problémy vyriešia v pokoji. Neuchyľujte sa k násiliu. Nikdy. Modlite sa za vieru na to, aby ste mali trpezlivosť."
"Na tomto mieste ma už neuvidíte."
Bernardo začal kričať: "Neopúšťaj nás, Matka! Neopúšťaj nás, Matka! Neopúšťaj nás, Matka!"
"Nermúťte sa. Som s vami aj keď ma nevidíte. Modli sa , modli , môj syn, za celý svet. Svetu hrozí smrteľné nebezpečenstvo. Matka nikdy nezabúda na svoje deti a nezabudla som, čo ste vytrpeli. Som Matka všetkých vás, hriešnikov. Volajte ma týmito slovami: Svätá Panna, Ty si moja Matka, Matka všetkých nás , hriešnikov. "
Panna Mária odišla a nikdy sa už nevrátila. Posolstvo bolo kompletné. Modlite sa ruženec, rozjímajte o Kristovi a blahoslavenstvách, modlite sa spoločne v rodinách, tvorte pokoj, nikdy násilie , láska, odpustenie, potešovanie Boha a uvedenie Božieho Slova do praxe.
Tretia svetová vojna
Čo s predpoveďou 3.svetovej vojny? Zdá sa to nepravdepodobné, keď ZSSR padol. Už v roku 1972 sa však črtalo, že Rusko to nebude. To korešponduje so 104 schválenými prorokmi od 6. storočia dodnes. Korešpodnuje to s Fatimou i Akitou. Pápež Ján Pavol II. k fatimskému tajomstvu povedal toto: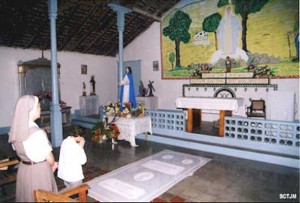 "Modlite sa a nebuďte zvedaví na viac. Všetko ostatné treba s dôverou vložiť v Božiu Matku. Pripravíme sa na skúšky v blízkej budúcnosti. Áno, aj keď nás to bude stáť životy. Ďalej je potrebné odovzdať sa kompletne Kristovi. Skúšky môžu byť umenšené cez vaše a naše modlitby. Vyhnúť sa tomu je však viac nemožné, pretože toto je jediný spôsob ako môže nastať obnova v Cirkvi. Ako často bola Cirkev obnovovaná v krvi! Nemôže to byť inak ani teraz.
Buďte silní! Buďte pripravení! Mali by sme plne dôverovať Kristovi a Jeho Matke. Modlite sa často, modlite sa často ruženec. Tak, hoci vykonáme málo, vykonáme všetko."
Prvých päť sobôt
V Nikarague sa zdôrazňuje znovu a znovu pobožnosť prvých 5 sobôt. Musí sa stať súčasťou každého katolíka na svete.
Fakt, že Our Lady of Nicaragua získala imprimatur takmer okamžite má veľkú dôležitosť, ale nie je to všetko.
Biskup Pablo Vego bol prinútený odísť do exilu za svoju podporu zjaveniam Panny Márie. Panna Mária však nezabudla na jeho lásku a na porážku komunizmu v Nikaragui použila ženu.
Bernardo Martinex zostal diakonom. Nikdy neprijal ani penny ako dar. Nikdy neukázal ani náznak pýchy a učil sa katechizmus. Doteraz otvára svoju kaplnku a vedie ružencové spoločenstvo.
Prečo je toľko rokov Our Lady of Nicaragua tou najzabudnutejšou vo svete? Rúhania voči Jej Nepoškvrnenému srdcu a súčasné mlčanie o posolstvách našej Nebeskej Matky. Na svet príde veľký trest. Ezechiel 38 a 39 prorokuje, že 75% sveta zahynie a bude trvať mnoho mesiacov, kým si svet pochová mŕtvych. Prečo ste za mnohé roky nepočuli o Panej Nikaraguy ?
Líbí se ti tento článek? Přidej ho na